Connecticut Governor Dannel P. Malloy has declared September 2013 to be "Campus Fire Safety Month".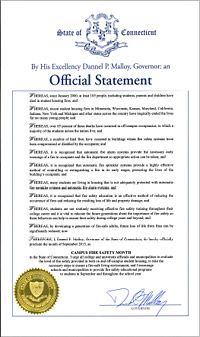 "I urge all college and university officials and municipalities to evaluate the level of fire safety provided in both on and off-campus student housing, to take the necessary steps to ensure a fire-safe living environment, and I encourage schools and municipalities to provide fire safety educational programs to students in September and throughout the school year."
Dannel P. Malloy,
Governor
To read the entire statement issued by the Governor, click the image at right to download the PDF.
For more information on campus fire safety, click here.
---